An Introduction To the Abrasive Grit British Standard Markings System
Safety is key when it comes to abrasive wheels. That's why you need to know exactly which wheel you'll use and why you'll use this type. Will you use a hard or soft wheel? Why? If you don't know the answers to these questions, you could put your safety at risk. Not to worry though, the Abrasive Grit British Standard Markings System makes it easy to identify which abrasive wheel you need for your task.
Here, we'll take a quick look at the basics covered in the Abrasive Grit British Standard Markings System so you can use abrasive wheels safely.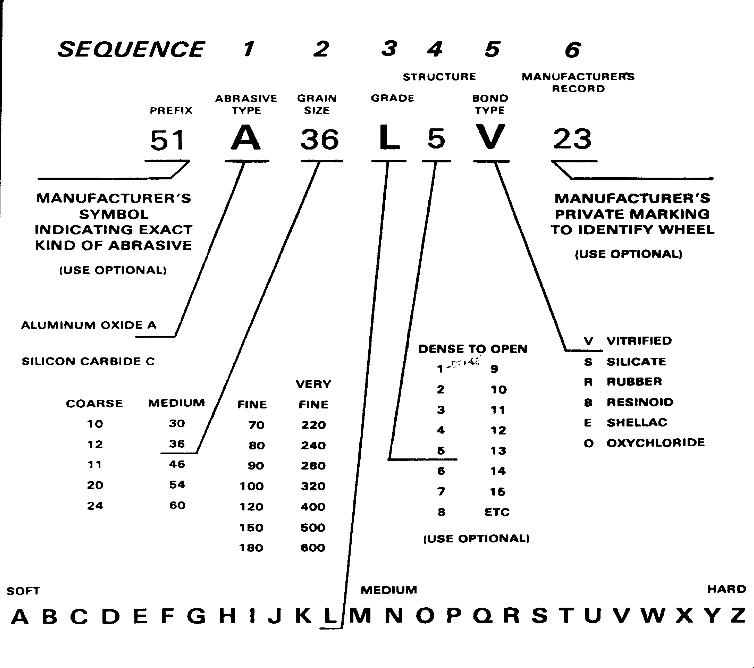 Two Main Types of Abrasive Grit
At the simplest level, the Abrasive Grit British Standard Markings System introduces you to the two main types of abrasive grit – aluminium oxide and silicone carbide.
Aluminium Oxide is A. This is used on  tensile materials.
Silicone Carbide is C. This is used on non-tensile materials like stone and bricks.
Grit Size
An important aspect of abrasive debris is the grit size. Grit size is rated between 24–100. The lower the number, the coarser the grit. The grit size represents the number of holes in a sieve per linear inch. It can also be measured in microns.
Soft and Hard Abrasive Wheels
It's also important to consider how hard and robust the materials used to manufacture the wheel are. The letters A–Z are used to represent the strength of the material of the wheel. A is the softest, and Z is the hardest.
Vitrified or Bakelite?
The bond of the wheel is shown as either 'V' for Vitrified or B' for Bakelite (also known as Resinoid).
Please note that there may be additional bondings, for example R is for rubber and E is for shellac.
The final letter indicates whether any reinforcement is present. For example, 'F' usually shows that the reinforcement is fibre glass. Manufacturers may also add other letters if using their own code system.
Below are the typical codes that the British Standards have put in place for abrasive wheels and discs.
A                        Aluminium Oxide
36                       Medium Grit
P                         Medium Hardness
B                         Bakelite (Resinoid)
F                      Reinforced
Types of Abrasive Wheels
There are five types of abrasive wheels:
Type 1 – Straight-sided vitrified wheels for bench grinders
Type 27 – Depressed-centred grinding wheels
Type 41 – Straight-sided cut-off wheels
Type 42 – Depressed-centre cut-off wheels
Diamond blades
ETD's Online Abrasive Wheel Course
To learn more about the Abrasive Grit British Standard Markings System, you can take ETD's Abrasive Wheel Course. Follow these five simple steps to get started.
·         Create a free company account or single user account, selecting the £12+ VAT payment scheme.
·         Purchase your user accounts using the online Elavon platform.
·         For company accounts, create your user accounts (using unique usernames) and "activate" each user by pressing the "activate" button.
·         Purchase your online training by selecting the courses that you require. Ticking a course will instantly assign it to the user's account.
·         Once the courses have been assigned, single users can access the course under "my courses". Company users can log into their account, go to "my courses" and start the training.
If you require any assistance with the online training, then please contact our support team, who will be happy to help.